Want to improve web programming skills?
trace http requests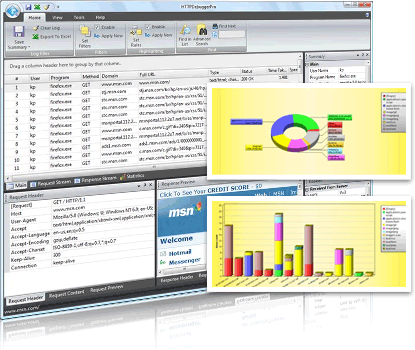 Click to see screenshots.
Overview of trace http
With HTTP Debugger you can trace http requests from your computer, trace http sent by your browsers: Internet Explorer, FireFox, Opera, Mozila, etc, trace http of email clients: Outlook, Thunderbird, TheBat, etc., trace http of instant messengers MSN, Yahoo, AOL, ICQ, media player and etc. Internet software developers can use HTTP Debugger to trace http communication between their programs and Internet.
Read more how to trace http requests
Extremely easy to trace http
It is extremely easy to trace http requests. Just install HTTP Debugger Pro, run it then click on the 'Debug Program' and trace http.
Download and trace http requests now!
Learn more about
HTTP Debugger Pro with
a FREE 14-day Trial!

HTTP Debugger Pro can trace http traffic for all alternative browsers and their plugins, as well as it can trace http traffic for your own programs. You can even trace http traffic for ICQ, MSN, Yahoo Messenger networks.

Catch when the browser performs automatic redirects.
Capture requests from all of the installed plugins in addition to requests sent by a browser directly.
Measure the size and downloading time of your web pages to optimize the performance of your web site.
Analyze how other sites work and how they implement certain features.
To trace http requests you need:
Microsoft Windows 2000/XP/Vista
Pentium Class PC 300 MHZ +
10 MB Hard Drive Space