Want a progrss in web programming?
Analyze http content!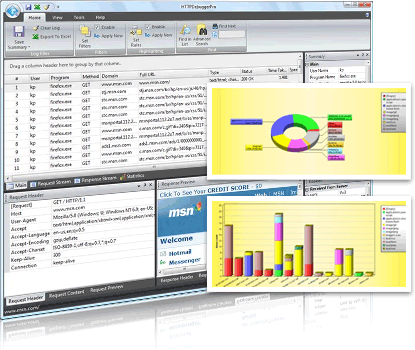 Click to see screenshots.
Analyze http content
HTTP Content is everyting you submit or upload, your web browser sends these data in http content via protocol. When you open a page or download a file it comes to you in the HTTP Content. Many web servers encode the HTTP content using gzip compression.
By analyzing http content of sent http requests you can view submitted html form details, uploaded images and etc. By analyzing http content of received http responses you can view received html/xml web pages source, stylesheets, images.
Read more about http content analyzer
View http content
it is extremely easy to capture and view http content. just install the http debugger, run it then click on the 'debug program' and start intercepting http protocol and viewing http content.
Download and analyze http content now!
Learn more about
HTTP Debugger Pro with
a FREE 14-day Trial!

View and analyze all http content sent by a web browser to the web server in http requests, and all http content of all received http responses from the web server.

Analyze http content catching the browser automatic redirects.
Analyze http content capturing requests from installed plugins in addition to requests sent directly.
Analyze http content seeing how other sites work and how they implement certain features.
Analyze http content learning about how http works (useful for programming and web design cases).
To view http content you need
Microsoft Windows 2000/XP/Vista
Pentium Class PC 300 MHZ +
10 MB Hard Drive Space