Need to analyze and view http?
Use HTTP Debugger, http viewer!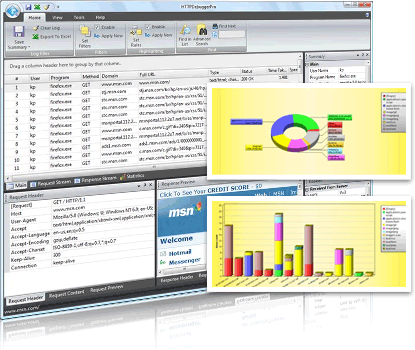 Click to see screenshots.
Overview of http viewer
HTTP Debugger can be used as http viewer to capture each outgoing http request from your computer sent by web browser: Internet Explorer, Firefox, Opera, Mozila, etc, email clients: Outlook, Thunderbird, Thebat, etc, instant messengers: msn, yahoo, aol, icq, media player and etc. internet software developers can use http viewer to analyze the communications between their programs and internet.
Extremely easy to use http viewer
It is extremely easy to use the http viewer. Just install http viewer, run it then click on the 'Debug Program' and enjoy.
Learn more about
HTTP Debugger Pro with
a FREE 14-day Trial!

The http viewer can view internet traffic for all alternative browsers and their plugins, as well as can monitor internet traffic for your own programs. You can even use http viewer to trace requests sent by icq, msn, yahoo messenger.

Use http viewer to see full header and content data of both: requests and responses.
Use http viewer to measure the size and downloading time to optimize the performance of your web site.
Use http viewer to view gzip and chunked encodings which are automatically processed.
Use http viewer to view data retrieve from web browsers or other programs.
To use http viewer you need:
Microsoft Windows 2000/XP/Vista
Pentium Class PC 500+ MHZ
25 MB Hard Disk Space