SoftX
HTTP Monitor 3.1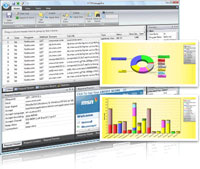 HTTP Debugger Pro
Need to monitor all browser http requests and server http responses? Want to analyze http headers and http content data? Try HTTP Debugger!
HTTP Debugger Pro is a full-scale tool for intercepting, monitoring and analyzing the HTTP/HTTPS protocol traffic between a web browser or any other program using the HTTP/HTTPS protocol, and a web server.
HTTP Debugger Pro Features include:
Full support of both 32-Bit and 64-Bit applications. Decoding of HTTPS/SSL connections and gzip/chunked content. Support of Dial-up modem, DSL/ISDN/Cable/LAN connections. Support of Internet Explorer, Mozilla Firefox, Opera and Google Chrome.


Buy HTTP Debugger for $49.95
Free one year program upgrades, even major new releases
30-day money-back guarantee



Download HTTP Debugger 14-day Trial Version
Microsoft Windows 2000/XP/2003/Vista or Windows 7

---

SoftX HTTP Monitor
Control each outgoing HTTP request from your computer and download only necessary Internet resources. Protect your privacy and avoid converting your own Internet traffic into income for someone else.
SoftX HTTP Monitor Features include:
works with all popular web browsers; blocks built-in ads in many popular adware programs (ICQ, eDonkey, etc.); dynamically detects and creates rules for all used programs and web sites; comes with preconfigured rules for blocking most popular ads and advertising networks; provides a complete log of visited web sites and used Internet programs.


Buy SoftX HTTP Monitor for $14.95
Free one year program upgrades, even major new releases
30-day money-back guarantee



Download SoftX HTTP Monitor 14-day Trial Version
Microsoft Windows 2000/XP/Vista